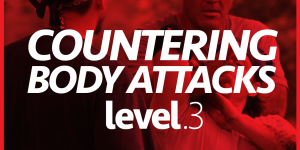 5 (Registered)
(0 Review)
Silat Dirty Boxing—Level 3
This is the complete curriculum for the 3rd level of Pencak Silat Pertempuran. This series is the first level to address low attacks as a relationship. And this is a required piece of training for the Apprentice Instructor Program.
Course Content
Total learning:

25 lessons

/ 1 quiz
L3 Meta-Movement & Baiting (Gerak & Sikap Pasang)

L3 Explosive Stepping (Langkah Cepat)

L3 Combined Footwork & Handwork

L3 Hand Entry (Masukan Tangan)

L3 Foot Entry (Masukan Kaki)

L3 Elbow Destructions (Totok Siku)

L3 Stomping Destruction (Totok Kaki)

L3 Hand Takedowns (Timbilan Tangan)

L3 Foot Sweeps (Timbilan Kaki)

L3 Elbow Entry (Masukan Siku)

L3 Ending Strike (Pukul Pembas)

L3 Hand Checks (Pencegah Tangan)

L3 Hand Destructions (Totok Tangan)

L3 Kick Destructions (Totok Sepak)

L3 Knee Destruction (Totok Lutut)

L3 Neck Breaks (Leher Patah)

L3 Body Evasion (Ales Badan)

L3 Exchanging (Pertukaran)

L3 Leg Checks (Pencegah Kaki)

L3 Leg Evasion (Ales Kaki)
If you are considering using this material as a way to study for rank advancement contact Guru Stark and he will help you understand the steps involved with that process.